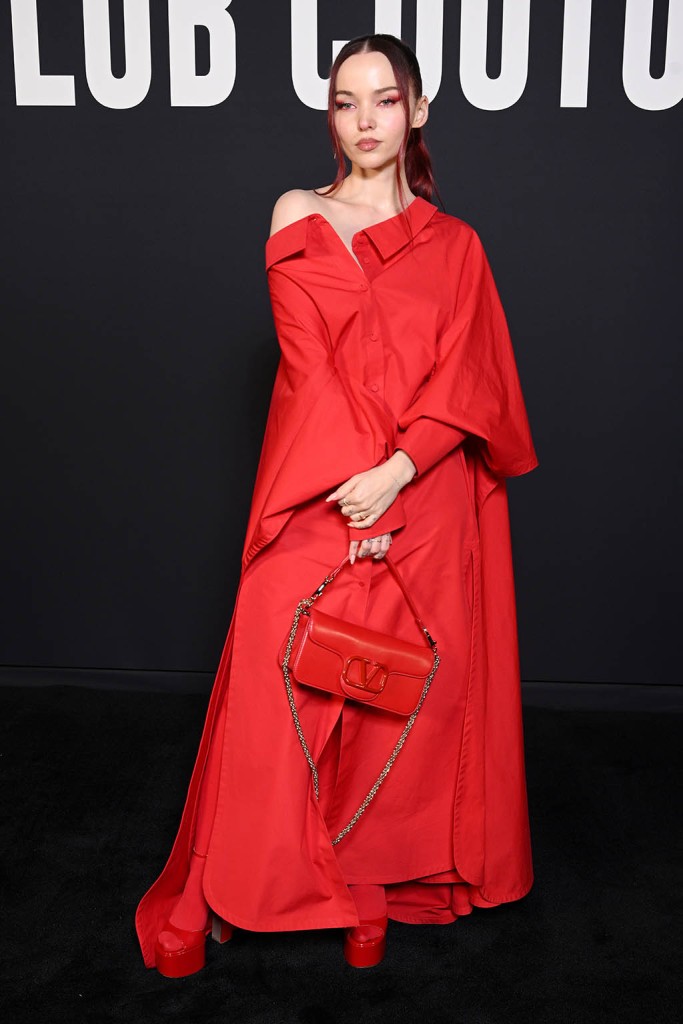 Dove Cameron gave lady in red a new meaning at the Valentino spring 2023 Haute Couture show today. The "Breakfast" singer arrived at the high-fashion affair in Paris in a full fiery red ensemble.
For the occasion, Cameron donned a floor-length button-down shirt dress. The garment draped delicately off one shoulder and included a sharp collar, side slits and billowy sleeves.
Sticking to a monochromatic moment, the Emmy Award-winning actress added a red rectangle Valentino handbag and dramatic red-winged eyeliner. She continued to accessorize with one dangling earring and a collection of midi rings. Cameron styled her hair in a high ponytail and let two strands of her bangs frame her face.
When it came down to the shoes, the "Descendants" star gave her ensemble a boost with tights and red platform sandals. The silhouette included an open-toe, chunky outsole and sat atop a 7-inch rectangle heel.
The platform shoe trend is one of the easiest styles to incorporate into any wardrobe. Post-pandemic, platform shoes have emerged as one of the most popular footwear styles. The dramatic heel easily adds flair to any outfit.
Haute Couture Week showcases the newest collections from brands specializing in haute couture, renowned as the world's finest garments made with intricate craftsmanship. From Jan. 23-Jan. 26, fashion shows and presentations will be held throughout Paris for the spring 2023 season. This season will include collections shown from Schiaparelli, Dior, Chanel, Valentino and Fendi.
This season will also feature several major moments, including Haider Ackermann's guest-designed collection for Jean Paul Gaultier and Robert Wun's couture debut — notably the first Hong Kong designer to show in the Week.
PHOTOS: Valentino Spring Summer 2023 Collection at Paris Fashion Week 
Share This Article