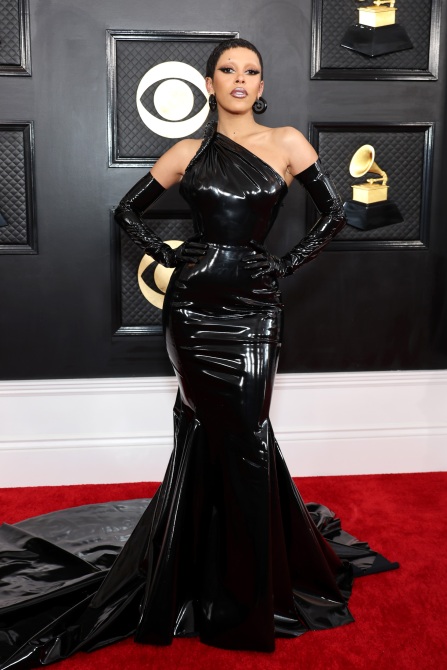 Scroll To See More Images
Doja Cat should create her own fashion week or even month. Last week, she attended a Paris couture show bedazzled in 30,000 Swarovski crystals from head to toe. This week, the talk of the town is Doja Cat's 2023 Grammy Awards look. She arrived on the Grammys' red carpet in an ensemble that may be even more difficult to get on and off than the Swarovski crystals, a gown made out of full-on latex.
The singer looked graceful and comfortable on the red carpet as she arrived in a head-to-toe latex look—a material that is notoriously tricky to put on, wear and walk in. Doja Cat certainly made the material look easy and above all, elevated. She wore a stunning one-shoulder black Versace gown on the red carpet and proved that the drama of an outfit, is all in the details.
Doja Cat's latex dress would be considered a rather simple red carpet look for her if it weren't for the incredible shine of the material—the texture and twisted shoulder detail completely elevates the ensemble. Since latex is very form-fitting, the dress accentuated the hourglass shape of Doja Cat's figure and the long train helped to create the optics of dramatized curves. The silhouette and combined texture of the dress creates a hybrid between an overall goth mermaid vibe or a dominatrix.
Doja Cat paired the dress with long black latex gloves and black spiral statement earrings with a few diamond ear studs in her subsequent ear piercings.
The dark hair and makeup look on Doja Cat is an essential element of her look tonight. She wore dramatically angled cat eyeliner that shaded her top and bottom lash line. She also used one of TikTok's favorite makeup hacks right now and lined her waterline with bright white eyeliner to help make her eyes pop. For hair, Doja Cat debuted a black pixie cut with short blunt bangs. The haircut created a stark contrast against Doja Cat's completely bleached eyebrows.
When Doja Cat isn't busy being a fashion icon, she's racking up Grammy nominations. Multiple tracks off her latest album Planet Her made the cut for nominations this year. Doja Cat is nominated for five Grammy awards this evening. Most notably, Record of the Year and Best Pop Solo Performance for her song Woman and Best Rap Performer for Vegas. 
Doja Cat has been nominated for a total of sixteen awards throughout her career and previously won the Grammy for Best Pop Duo/Group Performance for Kiss Me More with SZA in 2022.
Whether or not Doja Cat wins big at the Grammy Awards this year, she always makes the top of the unofficial awards list for the best red carpet looks. Doja Cat hasn't released new music since her song Vegas debuted for the Elvis biopic but she recently announced that a new studio album is on the horizon for 2023. We don't have more details on the album yet but rest assured, we're betting that the accompanying outfits will be award-worthy.
Share This Article