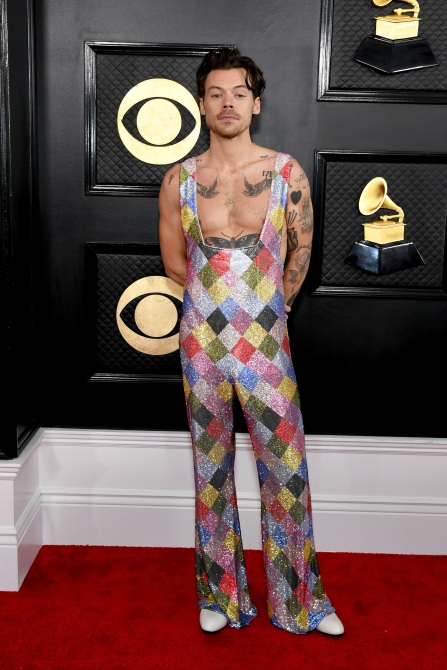 Scroll To See More Images
Harry Styles may have turned the 65th Annual Grammy Awards into his house tonight, but his outfit looked nothing like what you'd expect him to wear at home—well, besides the part where he's shirtless. Harry Styles's 2023 Grammy Awards look was a kaleidoscope of 70s fashion in the form of a plunging, sparkly, rainbow jumpsuit.
As a fashion icon for gender-fluid fashion, Harry Styles is used to stepping out in boundary-breaking attire. Whether it be a sheer lace shirt, a Gucci suit, pink flare pants or his signature feather boa, the only thing fans have learned to expect from Harry Style's fashion is that they'll never be disappointed.
This year, Harry Styles wore a rainbow jumpsuit to the 2023 Grammy Awards and that's it. The dichotomy of Style's look is that it's maximalist and minimalist at the same time. Full rainbow chainmail panels? Maximalist. Nothing underneath? Minimalist. Harry Styles has just provided a masterclass in balance. The fit of the jumpsuit involves a slightly flared leg which ultimately gives the look a 1970s feel.
To take the balancing act a step further, Harry Styles heavily committed to his accessories in the form of permanent upper body tattoos. If you look closely you'll see that he also chose to wear two delicate necklaces. He paired his jumpsuit with bright white leather loafers. Styles kept his hair simple and pushed it back into its signature swooped style.
The single-layered outfit is a departure for Harry Styles from his usual red carpet ensembles which typically involve heavily layered Gucci pieces. While the outfit feels different than Style's red carpet looks, it fits perfectly into the array of on-stage costumes he has worn over the past year on tour. Styles seems to be breaking down his style boundary between when he's playing in Harry's House and when he's making a formal appearance. It feels like he's ready to bring the fun into the real world.
Harry Styles already has one Grammy Award win under his belt for Pop Solo Performance in 2021 and he's ready for that number to go up. The As It Was singer is nominated for six awards at the 65th Annual Grammy Awards—and managed to pick up nominations in the most coveted categories including Record of the Year, Album of the Year and Song of the Year.  Style's record and album nominations are for his Harry's House album with the single As It Was also picking up nominations in four categories.
If you're a huge Harry Styles fan, there's a good chance you saw him live during his many performances on Harry Styles Love On Tour (HSLOT). Despite his extended touring schedule, he also managed to make history with a 15-consecutive night residency at Madison Square Garden in New York City. Grammy viewers at home are able to get a taste of Styles' on-stage magic with his live performance during tonight's Grammy Awards broadcast.
I don't know about you, but seeing Harry Styles on my TV has convinced me to re-watch Don't Worry Darling for a second dose of Styles.
Share This Article